We offer FREE in-home setup for your Artistic 18-8dx & Freedom Frame within a limited area of our shop!
Customizable Frame Size
Customize size in 4 foot segments - set up at 4', 8', and 12'. All of the segments are included standard.

Unique Quilt Top Bar Configuration
The Janome Quilt Maker Pro frame offers a unique configuration of the quilting bars (Quilt Top, Batting, and Backing). The bar that holds the quilt top is positioned below the bar that holds the backing. This keeps the Quilt Top Bar out of your way when quilting, providing increased range of motion and visibility. This unique configuration is great for ruler work.

Ruler Base
Optional Ruler Base provides extra stability when doing Ruler Work.

Quilting Space
The machine quilting space 9" high and 18" deep. The frame can handle quilt tops up to 11' wide. Provides ample space, and very good visibility when quilting.



Adjustable Handlebars
Adjustable front and rear handlebars with LCD touchscreen.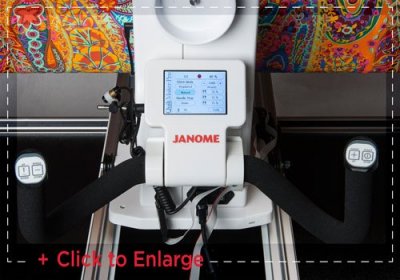 High Speed Quilting
Speeds up to 2,200 stitches per minute. Precision stitching and regulation even at high speeds means you get more quilting done.

Laser Light
Rear handlebars include laser light for Pantographs.

Convenient Magnetic Strips
Front handlebars include convenient magnetic storage to keep pins and scissors in easy reach.

Ultra Bright Lights
Ultrabright LED lights are located in a ring around the needle area and on the back of the magnetic bars on the front handles for superior lighting.

USB Updates
The machine is updateable via USB. No need to bring the machine to your dealer for updates.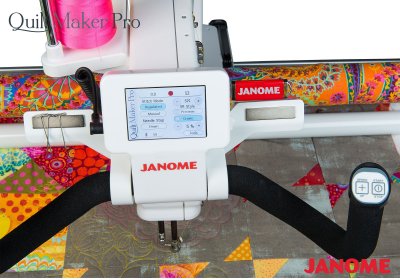 Built-in Thread Stand
Built-in Telescoping Thread Stand allows ample room for thread cones.

Bobbin Winder
Independent Bobbin Winder is a standard accessory. Never run out of full bobbins.
Digital Tension Control
The tension dial is located near the needle on the machine. Each movement of the dial is shown with a number on
the LCD touchscreen on each set of handlebars (front and rear). This digital indication number takes the guesswork out of tension settings. Use
the digital number to make notes on tension settings, and record them for future reference.

Digital LCD Touchscreen
Digital LCD Touchscreen is simple to use and provides machine information with easy to view graphics.


Save Stitch Settings
Easily set and save Stitches Per Minute settings for different fabrics and threads.


Low Bobbin Alarm
Low Bobbin Alarm allows you to set bobbin alarm for specific threads and capacities so that you never topstitch without thread in the bobbin.



Specifications